My experience as a spectator at Rio's 2012 Carnaval
While I'm big on parties and dancing, I'm not usually game for big crowds and chaos. That's why I never had the desire to attend Rio de Janeiro's carnival. But when the opportunity to go as both a spectator and a participant presented itself, there was no way I was going to miss it. What greeted me in Rio was surprising–considering the hoards of travelers who descend upon the city from Brazil and the rest of the world for Carnaval, Rio manages to remain fairly organized and relaxed. I guess I shouldn't be surprised; it's a beach city, after all: how can anyone remain high-strung with beach waves and fresh coconuts a few minutes away? I ended up attending the 2012 carnival parade at Rio de Janeiro's Sambadrome over the course of two nights: on Sunday night as part of the parade in one of the wings of samba school Mocidade Independente de Padre Miguel, and on Monday night as a spectator. This blog post describes the experience of being a carnival spectator; photos and explanations below are grouped by samba school (Unfortunately, my camera died halfway through the night). The experience will stay fresh in my mind for a lifetime.
I watched four schools on the Monday: União da Ilha, Salgueiro, Mangueira, and Unidos da Tijuca. It was great viewing from my frisa (open box seats down in the front). Frisa seats are pricey, but they're worth it– you're practically on top of the action, you're close enough to make eye contact with people in the parade, and the restroom situation is very manageable as there are restrooms for your section a few steps away (maybe some people wouldn't care about #3, but it's a major plus in my book!). I must confess, however, that while my seat was awesome, I didn't use it once during the night — I danced the entire time that I was there.
Elation and awe — these are the two words I would use to describe the experience of watching Carnaval unfold. When you watch the samba schools parade down "the Avenue" in the Sambadrome, you are watching true artistry. But you are also watching the culmination of efforts by regular people from the samba schools' neighborhoods who have volunteered their time over the course of a year to pull off this event.
The samba schools illustrate their themes through their allegorical floats, costumes, dancers & revelers, and song. Some themes are fairly straightforward while others are more convoluted. Rio's Special Group samba schools (the top 13 schools who compete for first place) have a maximum of eighty-two minutes to tell their stories and get their entire procession down the 700-meter "avenue" of the Sambadrome. During this time, the school's samba-enredo (theme song) plays continuously, performed live on-site by the singer. Every school has five to eight floats populated with destaques (awesomely costumed people who dance in VIP positions on the floats or in front of certain wings or floats), wings of revelers in costume, a bateria (drum and percussion section) consisting of 200 to 300 musicians, a queen of the drums, a godmother, standard-bearers who carry the school's flag, muses (really beautiful, charismatic women!), passistas (a samba school's most skilled dancers capable of rapid,  intricate footwork), Baianas (generally older women of the samba school who are dressed as traditional aunts from the northeastern state of Bahia and are easily recognizable with their big hoop skirts that twirl so nicely while the ladies spin down the Avenue), a Velha Guarda (Old Guard) composed of older samba dancers who danced with the school long ago, and the singer who not only sings the samba-enredo, but displays great showmanship in rallying the spectators and the participants.
União da Ilha's procession was themed From London to Rio: Once upon a Time, There Was an Island… Ilha's official colors are red, white, and blue, like the Union Jack. One major element of the plot was the symbolic passing of the Olympic torch from England to Brazil. The school featured references to the history, legends, and culture of the British Isles. Ilha is a school noted for its joyously irreverent nature, and much of its procession was very comical. Many of the song's lyrics were funny: "I'm gonna put Worcestershire sauce in the Feijoada (Brazil's national bean stew dish)/ I'm gonna mix tea with Cachaça (Brazil's national liquor, similar to rum)… My island is gold and silver, and has the bronze of the Mulatta…" Floats and revelers portrayed the country's military and naval might, and its history of exploration and conquest; literary and musical contributions were also the subject of certain floats. See pictures below for examples.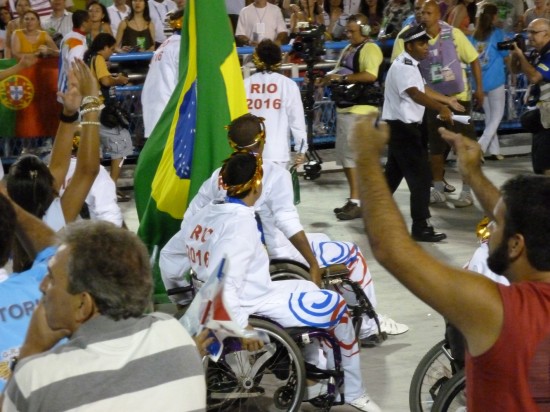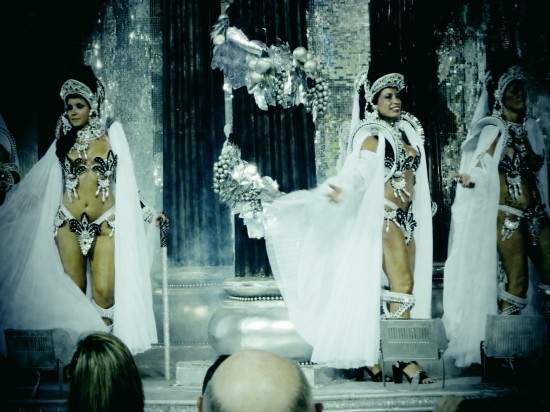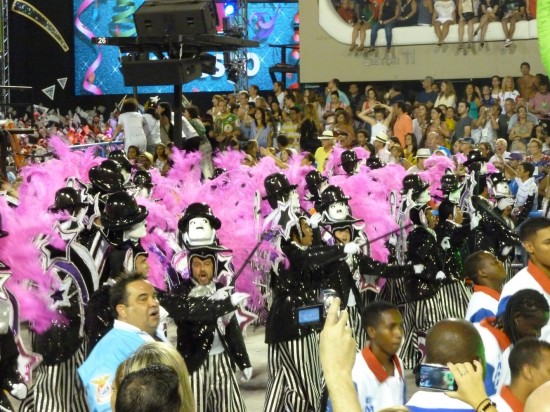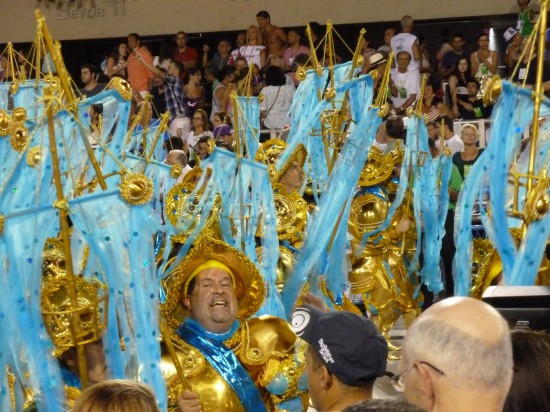 Samba school Salgueiro's theme, Cordel Branco e Encarnado ("Red & White Cordel") was a celebration of northeastern Brazil's traditional cordel genre of literature, which translates literally as "string literature." This folk literature was very poetic, and usually centered around fairy tales, legends, popular traditions, and current events of the northeastern region. It was written in poetic verse by poets and troubadours, and printed as small booklets. The authors would set up a stand at the local markets and squares, and hang their booklets on string so that passersby could get a look at them, hence the term "string literature." Salgueiro's procession illustrated many elements of northeastern Brazilian culture, as well as certain well known Cordel classics. It had a strong "Wild West" feel to it, and a mood of adventure, as much focus was given to the bandit culture of the northeastern semi-arid backlands.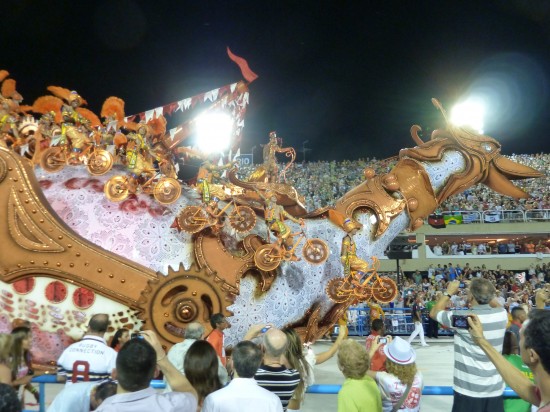 Mangueira– unarguably Brazil's most popular samba school, and an old, established school that is strongly rooted in classic Carnival traditions– chose to honor the 50th anniversary of the beloved samba Carnival band, Cacique de Ramos. Cacique de Ramos is a traditional street carnival block, or bloco. Street festivities are still the most common way to celebrate Carnival. Through their theme, titled Vou festejar! Sou Cacique, sou Mangueira ("I will celebrate! I am Chief! I am Mangueira!"), Mangueira portrayed the festivities of a quintessential Rio-style street carnival.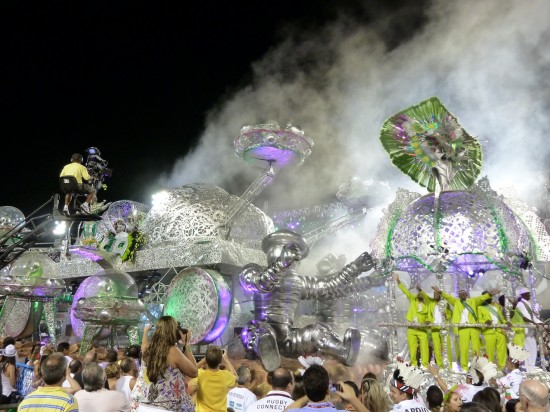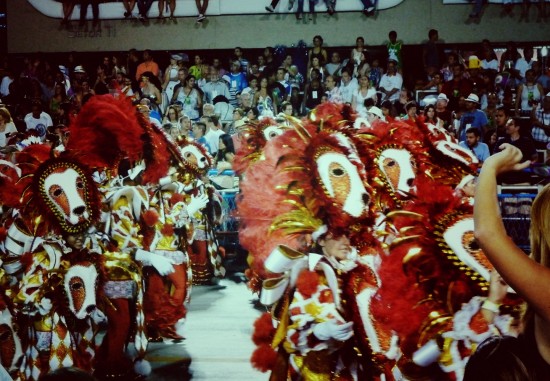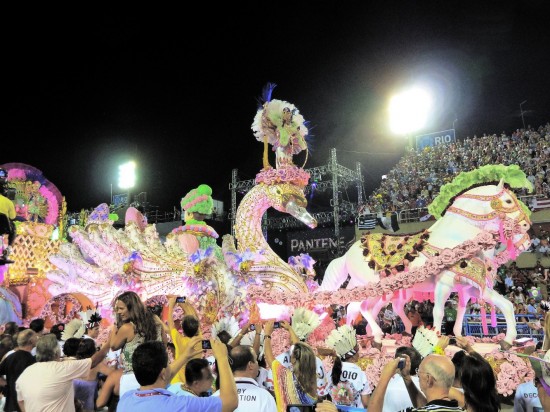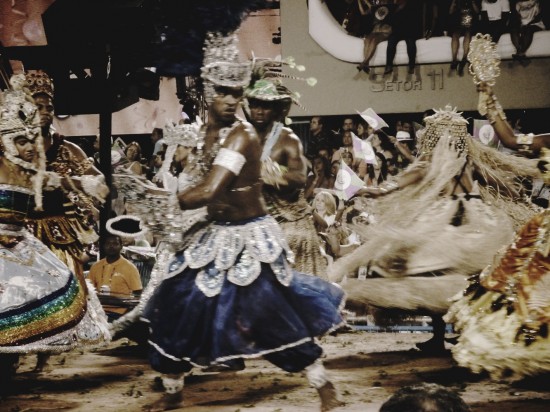 Sadly, my camera died before samba school Unidos da Tijuca even started down the Avenue, but they were truly a spectacle to behold. Their theme, The Day Royalty Landed on the Avenue to Crown Luiz King of the Wilderness, was a tribute to northeastern Brazilian folk singer and composer Luiz Gonzaga. Various kings and queens from our modern times were represented, recognizable monarchs like Queen Elizabeth II, as well as figures who are thought of as kings of their respective spheres, like Michael Jackson, the King of Pop, Elvis, and Pelé, the King of Soccer, just to name a few. In a plot that reminded me a bit of the Three Kings' Visit to Jesus, these royal figures were portrayed as descending upon the Sambadrome to crown Luiz Gonzaga as King of the Sertão (a word that refers to Brazil's northeastern wilderness and hinterlands). Gonzaga, who died in 1989, was a prolific folk singer and accordion player, but he was born of the humblest origins in northeastern Brazil; this imagined coronation was a touching story. Tijuca took first place this year for their homage to Luiz Gonzaga, and it was very well deserved.
I enjoyed every single performance that I watched, but I think Tijuca affected me the most deeply that night. My favorite theme, however, was that of Salgueiro; their theme speaks to the literature fanatic, the history buff, and the dreamer in me. Interestingly, both of these schools' songs this year strongly showcased the accordion, which is one of my absolute favorite instruments. It should be noted however, that these were my favorites of the schools that I watched, but my allegiance goes wholeheartedly to Mocidade Indepedente de Padre Miguel, the school with whom I paraded down the Avenue!
Watching Rio's Carnival is exciting and emotional because it's so joyous, and everyone in the venue seems to be on the same happy page. But as grandiose as the spectacle is, it still feels like a community event. Your eyes might focus on the incredible engineering of a larger-than-life intricate float, but move your eyes downward towards the ground, and you'll catch a glimpse of the dedicated samba school members pushing the float forward; none of this happens by magic. The other element of Carnaval that I find so moving is that element of tribute. There are artists, legends, historical figures, and pieces of history that are dusted off and brought to light, and they are celebrated and given their dues. In that process, they are constantly re-born and brought to mind.
I had the pleasure of visiting Rio de Janeiro's iconic Cristo Redentor statue this past February. I've seen Christ the Redeemer in so many pictures, but seeing it in person was truly special. Corcovado, the mountain on which the statue stands, is something to behold–over 2,000 feet of solid granite rock rising sharply and steeply towards the sky. I took the cog train up the mountain to the site. It's a relaxing twenty-minute ride–you get a great view of the city and valleys, and there is lush tropical foliage to see as the train moves through the Tijuca Forest on its climb towards the top.
There were a lot of people up there near Cristo. There was a young priest, wrapping up a blessing– it was the morning of Ash Wednesday: that pensive, quiet day that's supposed to sober those who are still recovering from days and nights of bacchanalian revelry during Carnaval. True to Brazilian nature however, even an atmosphere of attempted solemnity retains a festive spirit. The priest was grinning and chuckling as he sprinkled holy water over an energetic bunch of people, some of whom were paying attention to him, while others milled around. Standing at that high point, you see much of Rio, and are reminded of the beauty that gives the beloved city its well deserved nickname, a Cidade Maravilhosa, the "Marvelous City."
There's a slight sense of desperation as people jockey for a prime spot in front of the statue, eager for perfect shots of themselves with their arms outstretched, imitating the stance of the 130-foot-tall statue behind them. Once one person has gotten a satisfactory photo of himself with arms wide open, he rushes to trade places with someone else in his party, knowing he must return the favor and snap a picture of his friend or relative doing the same thing.  Folks lying on the ground are a common sight in front of the statue; they're not doing penance, they're just taking pictures.
As for the statue itself… Before seeing it, I was tempted to lump Rio's Redeemer in with other similar religious works. After all, the world is chock-full of Jesus statues, and after fourteen years of Catholic preschool-through-high-schooling, and a lifelong passion I've had for visiting old churches when traveling, I've seen lots of Jesus statues. But upon viewing it up close, seeing the delicate workmanship of the piece, the serene expression of the face of the statue, I couldn't think of it as yet another Jesus statue. Standing before it added a whole other dimension to my perception of the piece; I was so moved. My friends and I were fortunate to have such a beautiful, bright sky on that sunny Wednesday morning. Cristo Redentor is truly stunning, and I think of it as one of the most special sites I've visited.
I hadn't intended to be a part of Rio's famed carnival celebration. Though I've always been blown away by photographs and video footage of the celebration, I honestly thought of the whole thing as one big celebratory ball of insanity–crowds, crowds, and more crowds. But I was in Brazil in Fall of 2011 visiting my sister, and one night at the tail end of my trip, conversation with friends there turned towards travel planning for Carnaval. See, they were all residents of Brazil, and they were headed to the world's biggest party come February 2012. I had  plans to return to Brazil sometime in the future, but not for this upcoming group trip of theirs. As they hatched out plans about apartment rental in Rio for their trip,  ticket and costume costs, general dos and don'ts, dates of travel etc, some of them asked me, "You're coming back for Carnaval, right?" My sad, regretful response: "Well…. I don't think I can, since I wasn't planning to. I'm already here now, and Carnaval's just a couple of months away and it's a big expense, and I don't know if I can travel back here so soon…" None of them accepted my answer, and at the end of the evening, they all bid me fond farewells with kisses, hugs, and plenty of "See you in February" well wishes.
After a few weeks of "Will I or won't I" self-questioning and some in-depth discussion with my husband (who would not be able to join me), I decided that I would bite the bullet and try to make the trip back. So began a frantic search for decently priced flights down to Brazil at the height of Brazil's busiest summer travel season. Along the way, I hammered myself with nonstop guilty thoughts about how this wonderful trip that I would be taking was a rather unreasonable move on my part, considering that I'd just had a nice long stay in Brazil (I finally stopped feeling guilty about my trip roughly a week before heading down).
Everything was lining up beautifully: I had my ticket for Brazil; a friend in the group had secured a well situated apartment in Copacabana for the group; another had lined up arrangements for us to dance in the parade with Rio samba school Mocidade Independente de Padre Miguel; tickets for our frisa (open box seats) had been bought; and transportation to and from the Sambadrome had been reserved. I felt blessed that I'd be participating in this once-in-a-lifetime event.
Well, fast forward a bit to late February 2012. I learned and memorized my samba school's incredible song. I went to Rio with my sister and friends, and found "the Marvelous City" to be as beautiful and spirited as people have made it out to be. We drank, sunbathed, drank, ate, napped, strolled, and drank. We paraded down the legendary Sambadrome in full costume under Mocidade Independente's flags before tens of thousands of people. It was a transformative experience, one of pure elation– Rio de Janeiro is most certainly operating at a higher frequency during this celebration. I no longer think of Rio's Carnaval as a once-in-a-lifetime event. I'm just trying to figure out when I'll do it again.
Details to follow!
I've got the Kindle Fire. I'm not writing from the point of view of a techie; you won't find stats, numbers, comparisons, and contrasts to other tablets here. I'm your average (well, I'm far above average, but you get my point) lady user, who was seeking a device for browsing, reading, social media, and gaming. Word processing would be a plus, but not absolutely necessary. Price I'd be willing to pay for said device? I could be flexible within reason. To give you an idea, my current laptop is a wonderful, chic Sony Vaio with very decent processing power and great battery life; it cost $650 on sale. I used to want an iPad, but when I saw that I could get a computer for the same money, I never looked back. The Kindle Fire is my first tablet. I've held it and used it; here are my thoughts…
I love the compact size of it. When I hold it vertically, I can type on its keyboard with my thumbs, as though I'm texting on my phone. The keyboard is comfy horizontally too. I like e-mailing from the device. Movies and videos run smoothly on my Netflix app and on YouTube. Angry Birds, Bejeweled, Stupid Zombies, and a slew of other games run well, much to the delight of my nephew. The speakers have good sound. Unfortunately, there is no external volume button on this device; the volume can only be raised and lowered on the touch screen. Once you touch the settings icon, the volume bar becomes visible, but I feel a physical volume button would be best. I listen to enough loud music on headphones to know that a physical button can mean the difference between immediate relief to your eardrums and deafening noise.
I love reading magazines on the Kindle Fire. Between my husband and me, we've accumulated many magazines, and that's not the best thing when you live in a two-bedroom condo. So far, the ones I read regularly–O the Oprah Magazine, Saveur, and Food & Wine among many others– are all available on the Kindle Fire, and they look gorgeous on its screen, so I'll be switching to digital subscriptions for all my magazine reading.
Books look good on the Kindle Fire too, but I still prefer my old Kindle for full-on reading. When I travel, I'll only take the Kindle Fire with me because it serves multiple purposes. When I'm at home, however, I will still rely on my old Kindle for reading books. As a bibliophile with lots of books in her keeping, I was surprised by how easily I took to the Kindle years ago. I still find reading on a traditional Kindle to be the experience that most closely simulates reading the printed page. Although I only buy printed books on certain occasions these days (I try to read electronic books in order to prevent accumulating more objects around the house), reading a book–even on a machine– remains a quiet, sacred act for me. I was reading one of my books on my new Kindle Fire and I noticed some notifications on the upper left screen, letting me know that I had a few new emails, three new rounds on Words With Friends, and some tweets on my Twitter feed. I don't care for such distractions while I'm reading. That said, it's nice to have access to my books on a multi-function device because it'll help cut down on the number of gadgets I take with me when I go places.
Cookbooks, however, are another story. I never bought cookbooks on my old Kindle because pictures in recipes are important to me. I've looked at recipes from food magazines and cookbooks on the Kindle Fire, and they look perfect. I'll be able to stop buying printed food magazines and most cookbooks, and refer to my electronic copies in my Amazon Cloud whenever I need. The Kindle Fire also displays illustrated children's books beautifully.
The web browser is nicely integrated with my social media–from the page I'm reading, I can share from the bottom of the browser window, enabling me to email the link to the page, or share the link directly on Facebook or Twitter. I find that clicking from drop down menus can be difficult if the page is not zoomed in a bit, meaning I sometimes end up clicking on something just above or just below what I actually mean to click. This can be frustrating because a page I don't need opens, and I have to get back to the previous page, etc. But I hope that as I use it more often, these types of errors will happen less frequently.
I didn't get this device mainly for writing, but I love it so much already that I regret it didn't come equipped with some type of basic notes/word-processing feature. Just simple word-processing, formatting not necessary. There is a QuickOffice suite on the device which enables me to read Office documents, but I can't do any kind of editing. Ah well, I can rely on apps for that.
The biggest gripe I have with the Kindle Fire is a flip-side of what I love so much about it: it's a very personal device–as soon as you turn it on out of the box, you sign in, and all of your personal Amazon content is there. And when I say it's there, I mean it's visible and there ain't no hiding it, because whether you've chosen to download it to your device so that you can access it outside of WiFi, or whether you've only kept it in the Amazon Cloud, it's still visible. This was a problem for me because I was eager to share my tablet with my relatives, most especially my 7-year-old nephew. Thanks to the Kindle Fire's "bookcase" setup in which all of your apps, music, videos, and books are neatly displayed on a screen that resembles a bookshelf, there was no hiding my books on sexuality, some of which have diagrams and renderings and revealing book covers. On my old Kindle, I don't see the covers of my books, and if I want to remove a particular item from the reader because I know I'm going to be passing around my Kindle, or showing it to children, I can archive the book and bring it back later. I don't have any shame about what I read, but if I'm sharing my Kindle Fire with a child so that he can play Plants vs. Zombies, I don't need him scrolling through my content and asking me about orgasms. I tried to delete my books from the device, but they remained on the Cloud, so they were basically still there. Because I spend a lot of time with my nephew on a daily basis, and as I want him to be able to play games on the Kindle Fire as well as read children's books on the device, I ended up deleting any books that I didn't want my nephew to encounter. They are permanently deleted from my Cloud, so if I want to read them again, I'd have to re-purchase them. Now that I know this is the case, I won't be buying books on adult sexuality on my Kindle anymore unless Amazon comes up with a way for customers to personalize the appearance of their Cloud content.
I know there are a lot of people out there who complain that the Fire isn't a content-creator, that it has only 8 gigs of memory, that it doesn't have a camera, and worst of all, that it's just a device to promote Amazon as a retailer. Well, the thing is, I have a laptop for content creation and it's got roughly 600 gigs, I have two cameras for taking pictures, and I buy a LOT of my stuff on Amazon. Amazon could beef up this device with more bells and whistles to make it more like its competitors, but then the Fire would cost as much as its competitors too. At $199, the Kindle Fire comes in at a good price point for a great toy. And a nice toy is what these are, by the way, no matter what brand of tablet you buy. Make no mistake about it: people can bitch and moan and brag all they want that this tablet does this and that tablet does that, but in the end, the general public is using tablets to read, send email, play games, and chat with their friends. There's nothing wrong with that.
Actually, I do brake for people. But a part of me wishes that I could prominently display that statement–'I don't brake for people'–on my windshield.
Before you get angry and accuse me of being insensitive, let me say that I have the utmost respect and patience for pedestrians. You walk to get where you need to go? More power to you. I've spent plenty of extended periods of time in cities where I got around by foot or by bike. What I DON'T have patience for is jaywalking.  As defined by the Merriam-Webster dictionary, the verb 'jaywalk' means 'to cross a street carelessly or in an illegal manner so as to be endangered by traffic.'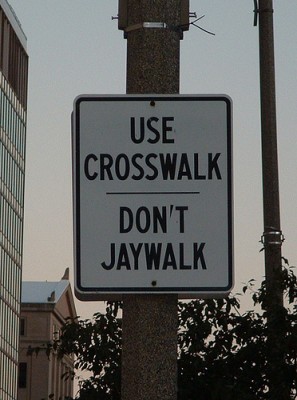 The heavily used phrase 'pedestrians have the right of way' seems to have taken on a brand new meaning, something more along the lines of 'pedestrians have the right to walk wherever they want, whenever they want.' As a responsible driver, I find that attitude unfair. In most accidents involving cars and pedestrians, the cars are almost always heavily penalized and fully blamed. But the fact remains that there are many irresponsible walkers out there. You come across them every day.
A person may jaywalk for various reasons. Maybe the busstop is halfway down the block, so he or she might dart into the middle of the road (often into oncoming greenlit traffic) to avoid having to walk all the way down to the intersection to cross the street properly. On a cynical-yet-undeniable note, there are people who do it because they have an utter disregard for rules and order. I'm also convinced that many people do it simply because they're mentally unstable.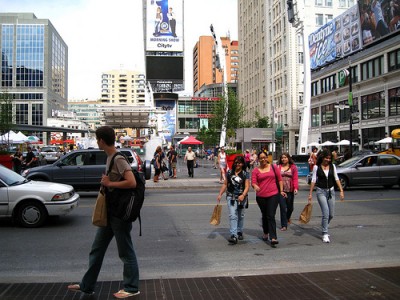 Some of the worst jaywalking offenders I see today are teenagers. Not that it's totally their fault–this laziness and disregard for surroundings is virtually state-sanctioned. During the hours-long school speed zones that many cities have put in place near high schools, groups of teenagers around South Florida stroll through the streets at a snail's pace, mostly at every spot other than the actual intersection. While driving slowly through these 15-mile-an-hour zones, I watch these kids as they meet up in the middle of the street, high-five each other in the middle of the street, hug each other in the middle of the street, shuffle songs on their iPods in the middle of the street, and tell each other jokes in the middle of the street.
Are you freakin' kidding me? What happened to 'look right, look left, and cross the intersection at a brisk pace?' I knew how to do that by first grade! Today, thanks to these speed zones, adolescents who are plenty old enough to know and respect road safety rules now feel entitled to stroll leisurely across the street, maybe even pausing once or twice to pull their pants up (not exaggerating–I've hit the brakes a few times to avoid hitting Mr. Pants on the Ground). I frequently see young jaywalkers outside school speed zones now.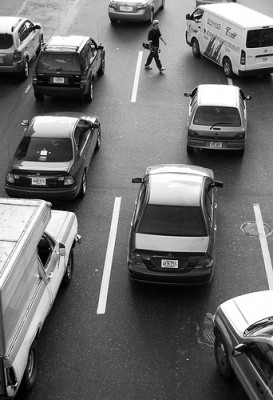 The most unacceptable jaywalking stunt? People crossing outside a crosswalk while they have kids in tow, or while pushing strollers. Endangering children in this manner is reckless. The most obnoxious jaywalking stunt? Running through the street outside a crosswalk dressed in black clothing from head to toe. At night.
I use the term jay-cycling to describe cyclists who commit the same offenses. Cyclists are supposed to follow almost all the same rules as drivers, but we all have seen a bike (or twenty) ignore these rules. On my daily drive to and from home, at least twice a day, I come across a cyclist who rides out against incoming traffic into the middle of the road. Reckless riding also takes on new heights in pedestrian cities where many cyclists work as couriers. I don't know how many times I've had to slam on the brakes while driving through Washington DC to avoid hitting courier cyclists who are weaving through cars in traffic. Accidents involving bikes and cars are highly unfortunate, but if a cyclist decides to run his stop sign or his red light because he feels the rules of the road don't apply to him, is it fair to pour all the blame and seething hatred on the car?
I'm a calm and conscientious driver. I rarely speed because I don't think the hassle of an auto accident or the risk of bodily injury is worth it. I acknowledge that there are a LOT of bad drivers out there–aggressive drivers with road rage, dense drivers who probably never should have been awarded a driver license in the first place, and your run-of-the-mill douchebag driver who thinks his commute is an audition for a role in the next Fast and Furious flick. But there are rules for cars, rules for pedestrians and rules for cyclists; we all have to do our part.
Pros of jaywalking? It saves you walking a few steps. Cons of jaywalking? It's dangerous; it's inconsiderate; and frankly it's stupid. After all, when it comes down to Human Body versus Two-Ton Vehicle, the human body doesn't stand a chance. Drivers ought to take every precaution at all times. And walkers ought to be aware that when they cross the street outside the crosswalk, they take a big risk. Crosswalks exist for a reason.
So if you're thinking about jaywalking across the street when I'm driving…please don't. It's not that I think I have any more of a right to be on the road than you do–it's just that as the driver behind the wheel of a 3,500-pound wad of metal, I carry the unique obligation of being responsible for both my own safety AND yours. Let's play fair now–I don't run my red lights, so don't run yours. That is all.
Photo credits:
Top photo: "YEAH!" by Sugarfrizz
Middle photo: "Leisurely Jaywalking" by Rocksee
Bottom photo: "Jaywalking" by Edu Alarcon
My aunt Yolaine in Haiti knows a lot of people in a surrogate mother kind of way. She ran a pre-school and kindergarten in Port-au-Prince, Jardin Fleuri de Yolaine, for forty-two years before passing the torch along to her daughter Patricia, a brilliant educator with the vision and energy to keep carrying the school forward. I'm amazed when middle-aged men and women will approach my aunt  to say hello, recognizing their former principal of long ago, and she'll say something completely personal to them, some detail about their lives or something she remembers about their parents.
My aunt being a big-hearted but stern woman, there was a strong emphasis on detail and order on the school grounds–especially because at the school, she also ran a boarding house for students and children of all ages whose parents lived out of the country– but there was also an undeniable devotion to merriment for the little ones. When carnival came around each Lenten season, the students were there to celebrate the occasion in style, decked out in Jardin Fleuri shirts, festive headgear, carnival garb, and face paint. Before Christmas break, there was always a celebration. Graduation Day was always a big deal come June, students dressed in cap and gown, the children performing long-practiced dance routines and poetry readings, the works. All of these occasions remained a family affair at heart–any relatives visiting when such things were going on automatically became participants, and my grandparents, Erna (an educator herself) and Dantes (a busy attorney), were always on hand to give students their diplomas, to help emcee events, and simply to provide moral support.
Life at Jardin Fleuri continued much the same through the 90s and the 2000s. Needless to say, everything changed on January 12, 2010 with the earthquake. With that earthquake, 2010 has become a veritable Year Zero in Haiti. We used to discuss Papa Doc's Haiti and Baby Doc's Haiti, Aristide's Haiti and post-Aristide Haiti. My cousin now speaks of life "avant Douze Janvier/apres Douze Janvier" (before January 12th/after January 12th). The school–a cement fortress, a friendly home base for many loved ones, and a decades-long fixture of Port-au-Prince–sustained terrible damage and was eventually razed to the ground.
For the very first time in my life, I saw my aunt, an indestructible woman who has seen and been through so much, display exhaustion and dejection. I felt a heavy sadness for my cousin Patricia who had launched her entire being–heart, mind, and soul–into this school for the last few years after my aunt had chosen to semi-retire. Jardin Fleuri had been Yolaine's legacy, and Patricia had meant to leave her mark in it as well. Despite losing everything, true to form, neither my cousin nor aunt had a 'woe is me' moment, or if they did, they never voiced it aloud–they're not complainers, even during the most dire of circumstances. There was never any doubt that the school would endure. There wasn't even a question of how it would endure. The only question was "When?"
The students first came back to class outdoors under propped-up plastic tarps, set up by my aunt and cousin on a nearby piece of undeveloped, tree-dotted land owned by my aunt. Next came class in tents, while they waited for UNICEF to build small modular units, which is where the students are now, better removed from the elements. Rebuilding is sure, but proceeds at a glacial pace due to a number of factors outside most people's control: lack of resources, bureaucracy, and corruption, among others. And Haiti continues to move neither backwards nor forwards, but in its own direction, at its own speed, always in its own dimension, its people as tired yet brilliantly resilient as ever.
*** Thanks to my cousin Patricia for sharing some of these pictures. ***
Two weeks ago, I arrived at my parents' house for a visit, and found my husband and nephew peering at and giggling secretively over hubby's Android tablet. "Think of a character!" they told me excitedly. I was puzzled, but after a moment of thinking, I settled on one and kept the name to myself. My husband began to ask me questions about the person I had in mind: 'Is your character a real-life figure?' 'Is your character still alive?' 'Is your character a male?' etc. I answered each question, intrigued. All of a sudden the questions became very specific: 'Is your character Italian?' "Does your character have a job linked with the arts?' 'Is your character a composer?' 'Has your character been portrayed in a movie?' My jaw dropped: how could he be asking these particular questions? How could he possibly know whom I had in mind? After I answered all the questions, my husband asked me, "Are you thinking of Antonio Salieri?" I gasped and sat in shock while my husband and nephew laughed at me, pleased with themselves.
My husband isn't a mind reader or a detective. Rather, he had the help of Akinator the Genius: a "twenty questions"-esque game application that can figure out the name of any character/figure you have in mind by asking a series of leading questions. Charmed, I downloaded it immediately onto my phone. When playing with Akinator the Genius (who is represented by an animated genie), you should answer his questions as accurately as possible so that he is not operating on a pile of misinformation. He makes it easy for you to do so: when he asks you something, you can respond yes, no, I don't know, probably, and probably not. Interestingly enough, when I would play, there were times that I accidentally tapped the wrong answer and the Genie still arrived at the right answer. Smart one, that Akinator…He can correctly name a character from a novel, a television series, or film. He can name an actress who's been dead for fifty years. He can name a real-life explorer or writer or game show host or TV presenter. Sometimes, he guesses incorrectly–if this happens, you can tell him he's wrong, and he'll keep asking questions until he gets it right.
Because the Genie is just as well versed in video game characters and recent pop culture as he is in Victorian literature and Classical music, kids get a kick out of this app. Unfortunately some of the questions aren't kid-friendly. My siblings-in-law's young children (ages 7 and 9) were instant devotees of the game, but it got a little weird when Akinator would ask something like 'Is your character part of the Adult Sex Film industry?' or 'Is your character a porn actor?'
It's addictive. You introduce the game to new people, just so you can see the wide-eyed looks on their faces when you start to home in on their thoughts. Classic. You start to think of more obscure figures, just to see if Akinator will come up with the right answer. I introduced the game to family during a recent visit to the Great White North. True to his claim that he can guess anyone you have in mind, Akinator figured out most of the characters my brother-in-law chose, from Wellesley and Sergeant Major Harper, to Jack Aubrey; he figured out my other brother-in-law's Ronald McDonald, my sister-in-law's Danny Zuko, all of my sister's Dr. Who characters, and my younger cousin's Kate Middleton, among many others (and I do mean many–this game can keep a group occupied for a long time). The Genie does get stumped sometimes, though. If he hasn't figured out your character after asking you roughly 60 questions, he asks you to type the name of the figure you had in mind, and then promises to do better in the future, or he thanks you for introducing him to a new character. This happened a couple of times: he didn't guess my brother-in-law's late Canadian Prime Minister Lester Pearson, or a nephew's particular wrestler (although my nearly-8-year-old nephew earnestly confessed the following to me soon after: "Aunt Lise, the Akinator never would have gotten that wrestler because it's waaaay too hard to guess who he is, but he guessed all of my Pokemon characters!"). He also couldn't figure out my Soames Forsyte or my Frank Ashurst–he kept mistaking them for Mr. Darcy and Charles Ryder.
So the Akinator does err–how human of him. But the Akinator is also dead-on much of the time. Is he human, or is he divine? Neither–the Akinator is internet machine, and you would do well to remember that when you find yourself getting overly annoyed with him. One evening, my dear brother-in-law started getting frustrated when the Akinator failed to guess his thoughts; his frustration soon gave way to anger. His statement: "I just don't understand why he isn't figuring it out! What's wrong with him?" His wife's sobering response: "You're arguing with an iPod."
The Akinator app works over Wi-Fi and cellular network. It currently sells for $1.99 in the United States. A fun way to pass time, and probably an app you'd want your friend to bring along for a road trip.
Remember the era of the great jingle? The catchy little advertising tune you couldn't resist singing along with when it came on the TV screen or the radio?  They were an advertising mainstay between the '50s and the '90s. Not that they're officially dead and gone, but by comparison to those extremely memorable chords and words of yesterday, today's jingles seem non-existent and forgettable. Below are eleven clips of old commercials with some of my favorite jingles. I focused on the 80s, with the exception of Coca-Cola's famous early '90s jingle. Considered adding the Soul-Glo commercial from Coming to America, but figured that would be cheating…
Some Memorable Jingles of Yesteryear
Juicy Fruit. I can sing this song in its entirety. With an…appropriate…level of over-enthusiasm. Don't judge me.

Big Red. Gum was clearly an obsession in North America for a while…

Zest Soap. I always wanted that giant towel. As for the very scientifically sound soap-scum-on-the-shower-door experiment in every Zest commercial, can't say I ever conducted such trials in my own home…

Extra. See 'Big Red' description above.

Coast. Bar soap commercials had a way of working themselves into the mind. I often found myself smelling the bar and getting a stupid smile on my face, like all the showering folks in the Coast commercials. Again, don't judge me…

The Clapper. An a capella jingle, but a note-worthy jingle nonetheless. Who didn't know this one? I always lamented that I never had a clapper in my home, and today I often wish I had one when I feel too lazy to switch off a lamp.

Folgers. Those commercials made me want it, but Folgers wasn't allowed in my house. My father was a strict Café Bustelo man who only prepared the family's coffee in "the third-world coffee maker"– the nickname my sisters and I gave to our stovetop espresso maker– "third world coffee maker" being a misnomer, of course, because this type of coffee maker was invented in Italy…Still haven't experienced "the best part of waking up," but I remember the song.

GEO. G. E. O-whoa-whoa-whoa. My sisters and I used to sing that line. Over and over.

Frosted Flakes. "Show 'em you're a tiger, show 'em what you can do…" Frosted Flakes commercials had a common theme– most of them featured an underdog needing to unleash the tiger within. The jingle is short, but effective.

My Buddy/Kid Sister. A catchy little tune. The jingle was undoubtedly the bane of many a parent's existence, and the toy itself merely one more link in the long unbroken chain of children's imaginary friends.

Coca-Cola. I don't drink soda, but I've never forgotten this song. Obviously, Coke knew it had a winner with this tune and wanted its message engrained in people's minds–it's not often a product displays its jingle's lyrics, karaoke-style, in its commercials. In my humble opinion, they've never had a stronger ad campaign.

Ohh, alright. I couldn't resist. Here's a little "Soul-Glo," courtesy of Coming to America…

Did I miss any of your favorites? Please share!
I never wear hats. I always want to, but I don't. I admire men and women who wear nice ones–ahh, such panache. Whenever I put one on, I feel loud…then self-conscious. One of my best friends is getting married this year, and for her bridal shower, she asked her guests to don hats for a lovely Sunday lunch. While I did have a subtly nagging sense of dread that I wouldn't look quite right, those thoughts were crowded out by the pleasant idea of seeing my best friends in hats.
Perhaps in order to pay homage to the high pressure all-nighters of my school days, I procrastinated with my headpiece assignment.  After hitting a few stores unsuccessfully, and feeling slightly panicked with less than 48 hours left until the shower, I texted my besties for advice on stores, materials, and styles. All responded immediately (because they are the greatest friends in the world) with ideas and reassurances. 24 hours before the party, I headed to Burlington Coat Factory where I found a slew of hats. Some reminded me too much of a church service. Some were too warm for outdoor Florida weather. Some looked nice hanging on the hat rack, but absolutely ridiculous on my head. I took a few different hats to a fitting room along with some dresses. After frantically changing in and out of ten different outfits and hearing pieces of bizarre conversations from fitting rooms next door, I went back to the hat rack, eyes fully peeled. My eye settled on a fun green one with a flower; I swear it hadn't been there before. I grabbed it and ran back to the clothing racks and found a springtime-is-here halter dress covered in  a violet, blue, and green flowery pattern. I walked to the fitting room, confident that this combination would be the answer to my silent prayer.
Come Sunday, I arrived at the shower, turned off the car and sat there staring at the hat on the passenger seat, all at once in love with it, yet loathe to put it on. A few moments later, I walked onto a patio filled with behatted ladies, each one all the more lovely and unique thanks to those expressive accessories adorning their heads. There were all kinds–there were straw hats and fascinators, there were ones made of linen and of raffia, some had feathers galore. Each woman's hat was a compliment to her personality and style. While all of us experienced certain obstacles when searching for and choosing our hats, we all agreed that we'd like to wear them more often. My friend's shower was wonderful, and I won't forget that I wore my first real hat for her.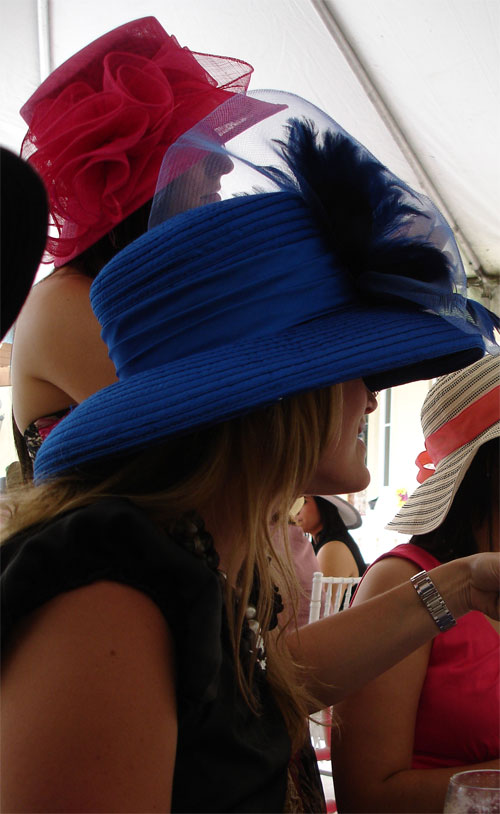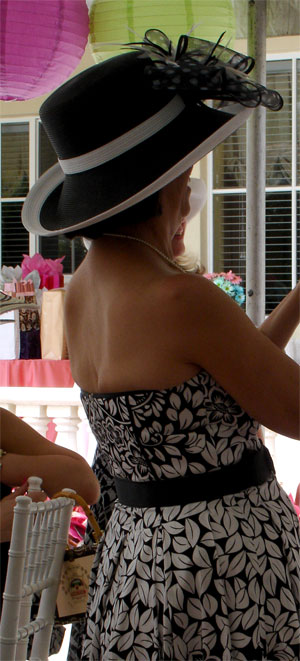 Thank you, dear Olivia, for sending me pictures #6, 7, and 11!